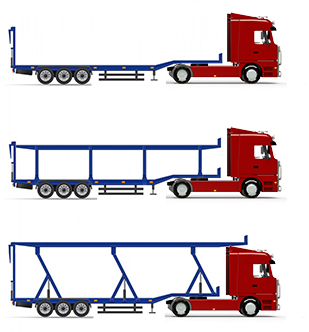 In recent years, the transportation industry has been actively developing. Automobile manufacturers are increasing the number of their products, their import and export volumes are growing, and their distribution network is expanding. As a result, the need for transport and logistics services in this sector of the market is increasing. Flay Logistics Associated Traffic AG offers a wide range of transport and logistics services that enable the delivery of vehicles and other automotive products. For more than 20 years, Flay Logistics experts have been developing the best routes for automobile transportation in Europe, the Commonwealth of Independent States (CIS) and Central Asia.
VEHICLE TYPES VEHICLE TYPES
Our company uses special auto carrier vehicles with a capacity of 2, 3, 4 or 8-10 vehicles to ensure maximum transport safety and reliable service.
Depending on the customer's wishes, adapted vehicles are used for shipping:
Open carriers consist of tow truck and special trailer. The trolleys are loaded one by one on this carrier and the wheels are securely fixed with straps and stops.
Closed and awning auto transport vehicles protect cars from various damages thanks to special coatings and awnings. Transporting cars in closed auto carriers provides additional protection against stones and dirt, dust and rain coming out from under the wheels.
Attractive allows you to move many vehicles from different places. The experienced drivers of our transport partners are well aware of the responsibility of loading and securing cars to the vehicle. When loading and unloading on the semi-trailer, the shipper and the receiver must provide a special ramp for safe loading and unloading.